Meet the Familia
The Kafies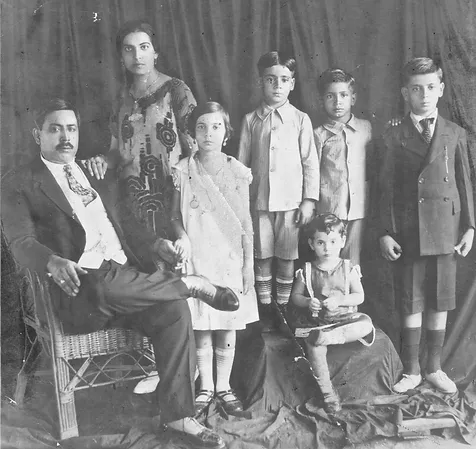 The Kafie's – Century long traditions in Central America and Honduras
Kafie 1901
The Kafie Family
Four generations invested in Central America. Kafie 1901 is our past, our present, and our future.
Our family is one that has undergone incredible socio-cultural transformation the past century. Our roots show travels from England in 1901 to the Americas. Don Chuckri Kafie (my grandfather) first arrived to Central America at the turn of the 20th Century. La Union, El Salvador became home to our ancestors (the first generation). It is there where the family set its first roots in Central America. Decades later, in search for further opportunities, my grandfather, father, aunts, and uncles all relocated to Tegucigalpa, Honduras. Our span in Central America exceeds an entire century. We are very proud to have been an intergral part of the development of this Central American country.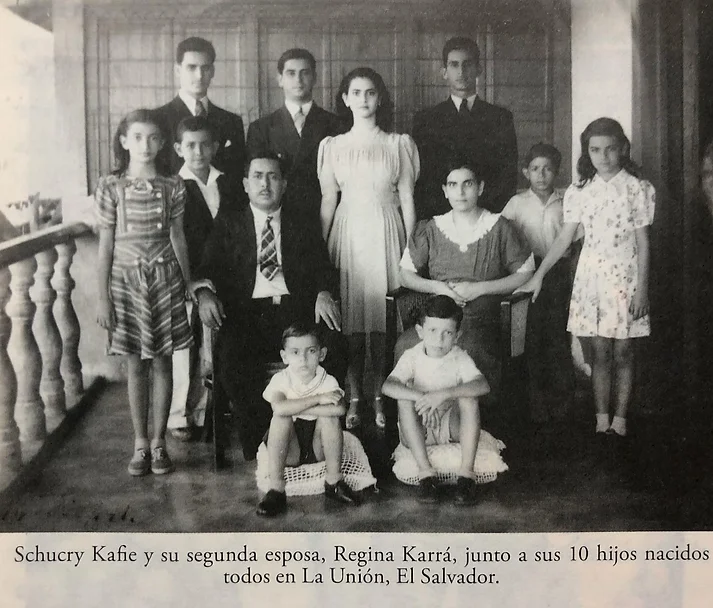 Each member of our ever growing family can best be described as being very eccentric, talented, motivated, hard working, visionary, and humble. The men and women are traditionally very passionate about family, religion, and work. We are comprised of Empresarios (business men/women), Doctors, Lawyers, Architects, Engineers, Artists, Song Writers, Poets, and much more. Some of our cousins here in the United States proudly serve in different branches of the military.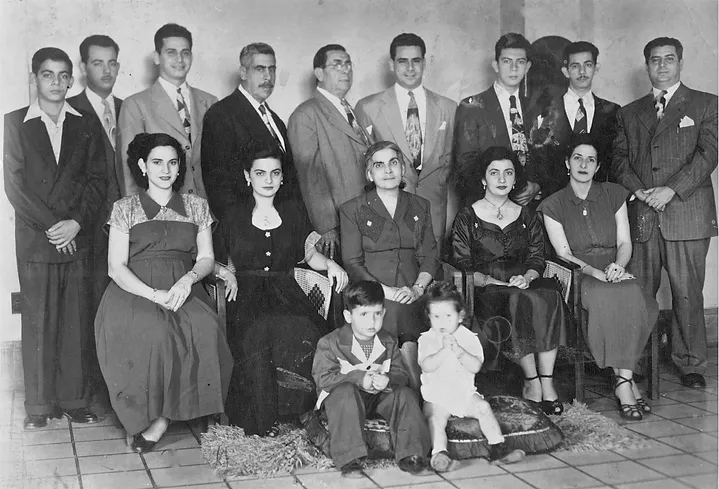 In the 70's, my father Don Fernando ✝ (the youngest, and pictured on the left corner) and mother Doña Hiyam Lutfi de Kafie brought our young family to live in the United States. Our parents always had dreams of raising their children in this great country. These dreams became a reality, and because of them, their grandchildren are now enjoying the freedoms, rights, and liberties that come with living in this great nation. It is for this reason that I dedicate our first blend to the most influential Kafie in my life, my father Don Fernando Kafie. Although he is not longer with us, I wanted to keep his name alive for ever and ever. His journey to the United States was a difficult one, full of hard work and sacrifice. The things that make life worth living.
​​The past 3 generations all shared one thing in common, a love for fine cigars. This brand represents the historical influence that "puro's" have had on our daily lives. Excellence takes time and patience to achieve. It is for this reason, that all of our tobaccos are aged for a minimum of 5-6 years. KAFIE 1901 Cigars was created for those that are looking for that classic, well aged, flavorful cigar experience. The Don Fernando "Maduro" will is the first blend in the line up.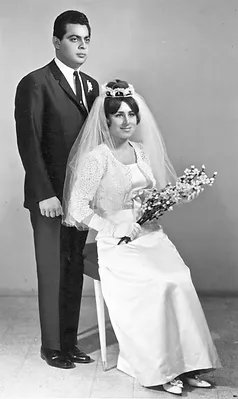 My father and mother are portrayed in the capture to the left. My father Don Fernando Kafie Karra, was the youngest of 12 siblings (2nd generation). My mother Doña Hiyam Lutfi de Kafie is in this photo taken on the day of their wedding.
Through their union of over 35 years my parents gave rise to 3 children. Fernando Jr, Gaby (myself), and Tiffany Tamara. Both my brother and I were born in Honduras. We lived there for 5-7 years, until our family relocated to El Salvador in 1976. My parents had a dream, it was to raise their children in the United States.
Almost 11 years later, our family ended up living in North Hollywood, California. This is where my sister was born. The third generations of Kafie's received their formal education in the United States. My brother became a General and Vascular Surgeon, and resides in Pensacola, Florida. I became a Sport Medicine and Podiatric Physician in Miami, Florida. Our sister Tiffany returned to Honduras with our parents 20 years ago to continue her higher education there. She received her formal education in Business Administration and married an Internal Medicine physcian named Dr. Daniel Simon.
The third generation of our family tree now has a total of seven 4th generation members. From oldest to youngest they include…
Justin, Daniel, Joshue, Marianna, Gabriel, Tomas, and Adrianna. Part of our family still makes their home Honduras, the other half is in the United States. For myself, I like to think that both countries are my home.
The photo to the right was taken at our First Communion celebration in San Salvador, El Salvador. At the time my brother Fernando Edwin Kafie Jr. (R), was roughly 8 years old, myself Gaby Kafie (L), well I was 5 years old.
I do remember this day, it was a great, warm, and loving celebration. Soon after this photo was taken in 1976, my parents applied for a Visa program in the United States that would allow us all to become legal permanent residents. The process was lengthy, it took our family nearly 6-8 years to become permanent residents of the United States.
I am proud of our parents path to citizenship in the United States, and I am more proud of their accomplishments in this country. Because of their high morals, ethics, hard work, and discipline, we are who we are today.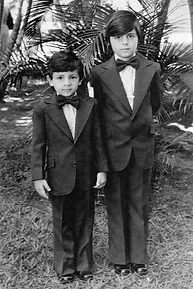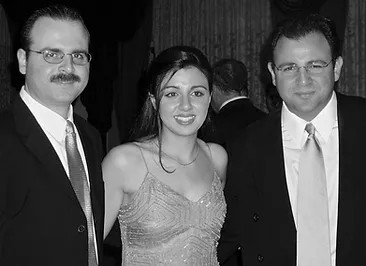 The three of us now celebrate what has become a small part of the third generation of the Kafie family. The three of us grew up in the United States.
We have always loved Honduras, it is the birthplace of our family. The country where our history is defined. Over One Hundred and Fifteen years later, our deepest roots lie in Honduras. The Kafie family today is one of the largest families in all of Honduras. As the family continues to grow, many members of the third generations are finding their home in the United States, Central and South America, as well as Europe. We are a family that spans the globe.
They say what defines a man is a woman. My wife Vivian, also has roots dating back to 1934 in Tegucigalpa, Honduras. She as well is three and four generations deep with family history in Honduras. Her family has a rich history in growing coffee dating back to the 1930's in Honduras.
Between both of our families, we have invested in Honduras over 200 years. Through our lineage, we know the country, the people, and the land. We want to give you "the connoisseur" the finest premium cigars Honduras has to offer. Through our partnership with Tabacalera Puros Aliados, our dreams are coming true. Our mission is to build a company that the fourth and fifth generations will be proud to be a part of, and carry the tradition of fine cigars into future generations to come.
Thank you for the opportunity to be a part of your life, and your humidors. Dr. Gaby Kafie & family.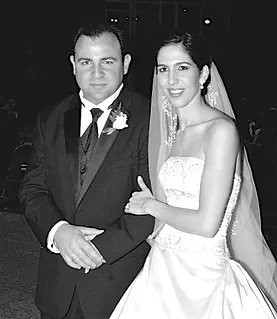 Social
Become Part of Our story